Quality Control Survey Results 2022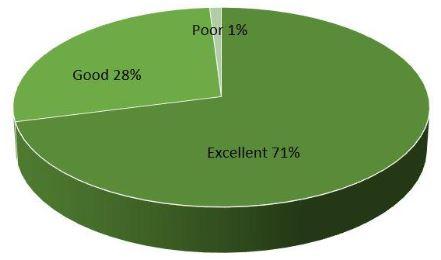 Our global network now comprises of 345+ specialist companies in 125+ countries – the largest we have ever been.
We are delighted by the increasing number of shipments that are being nominated within PCN.
As this continues to rise, it is important that we monitor the quality of our Members to ensure that we have recruited the right companies, who perform in a conscientious, diligent, and professional manner.
Thank you to each of you who took the time to submit the Quality Control Survey. It is much appreciated and enables us to continually monitor our membership.
We are delighted that the overall "performance rating" results show the EXCELLENT (71%) and GOOD (28%) ratings far outweigh the POOR (1%).
The results provide a platform to uncover any Members who rate below average. We will contact any companies that need to improve their service and together we will investigate and address any problems.
We also wanted to highlight some of the comments regarding companies that you have been particularly impressed with:
We had awarded Khimji delivery jobs in Oman, they executed the jobs very well.
We have been working with M-Star - The Netherlands, they have been very swift and helpful in complex execution, also very competitive in pricing.
We have very good and long lasting experience with Gebruder Weiss Austria, BBL France, Europe Cargo Belgium, ABL Belgium, WRL Australia, Ramps Trinidad, Cuchi Shipping Vietnam, Convoy Canada and many others.
As always, fantastic cooperation with Thunderbolt team!
Punto System, Centauro, Schryver Ecuador, SCACLI. When we have to move cargo with their countries, we usually do it exclusively with them.
Our good colleagues in Italy - Fortune International! Couldn't have done so much without the help of Paolo and his fantastic team.
We have been very impressed with Breakbulk INC and JM Logistics this year, real professionals!
Yes, there are. There are Central Oceans Thailand and Central Oceans UK.
Hecksher Poland have been really helpful and their communication is great.
We have started our cooperation with Best Global Logistics from Norway this year and would recommend such a partner to all!
Spain A Perez did a great job since our first contact. Smoothly handled our shipments and worked as partner, even for first shipment, making the business easier, with very good flow.
Eastship Romania - Excellent service & follow-up, even in difficult moments always avail & aware. 10/10!
Australia WRL are replying fast and in a professional way. Easy to co-operate with.
PANDA from Taiwan is very good support.
We worked very good with Shipway Argentina.
Always Europe Cargo, incredible support!!!
India Procam - market knowledge, dedication and problem solving attitude.
We are constantly working with Chile HMGS in regular complex shipments and have always been given an accurate response and efficient execution.
We enjoy great cooperation with many PCN partners. In particular Livo in Czech Republic, BATI in Turkey whom we have known for over 10 years.
CHS in Finland has been excellent to work with. ACS in Austria have several shipments we have handled for them since they joined the network. Their communication is very good. We are starting some new relationships with members in Europe which is our strength. Very much professionally managed, trustworthy company, with highly educated and motivated staff.
Nagai-Trans of Japan and Farcont Project of Ukraine. Both have been tremendously supportive, communicative and continue to be integral partners within the network!
Cuchi Shipping (Vietnam) is very active and know how to handle customer and how to handle project shipment. I was impressed by them.
Kenya Offshore Logistics great follow-up and communication well-structured.
We have a long standing relationship with BATI and Europe Cargo based on their service levels.
Regarding the agents that have impressed me in this network have been Schryver del Ecuador - a very productive company with excellent service; Belgium ABL - a company with excellent communication and very interesting loads; Ramps - a company with quality service.
WRL in Australia are always easy work with and have helped solved some interesting problems over the last year.
ACS - Good response time, detailing and approach in handling projects in Austria.
CEA - Very helpful and supportive, experienced in Vietnam.
We are more powerful when we unite forces and work towards a common goal.

I am so proud of our network!
Kind regards,
Rachel Crawford FCILT
PCN President/C.E.O.