Megalift Report Successful Transportation of 2 Gas Turbines
1st November 2019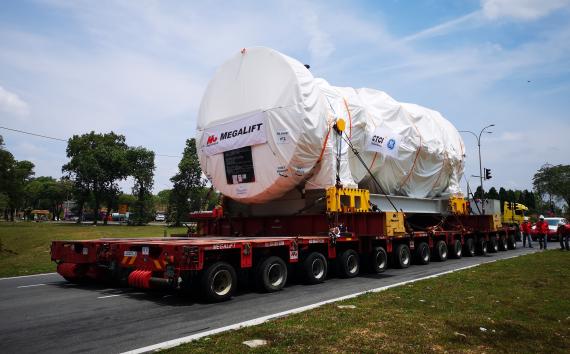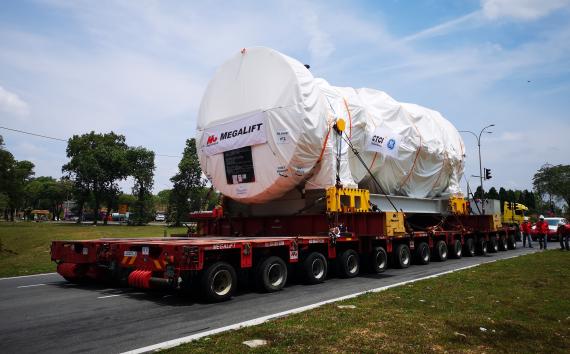 Megalift are pleased to report they have handled the successful transportation of two gas turbines in Malaysia.
The impressive photos in the gallery below show the operations to move the world's largest and the first GE 9HA.02 gas turbines in Malaysia. It is also known to be the current most efficient heavy-duty gas turbine in the world.
Each gas turbine weighs 436tn with dimensions of 11.40 x 5.10 x 5.20. Ms Atikah (Overseas Agency Development Coordinator at Megalift) comments; "We received the gas turbines, that had come from France, at Pasir Gudang Port, located at the southern region of the Malaysian peninsula. They are crucial components of the 'Track 4A: 1440mw Combined Cycled Power Plant' in Pasir Gudang, Johor.
Each unit was taken through a distance of approximately 5km, an extended route to avoid several overhead restrictions. Margins at both edges of the road were narrow and it was especially challenging to turn at tight junctions. Timely traffic control coupled with our experience and familiarity of the route contributed to a smooth operation."
"Since 2018, Megalift has been entrusted to move a large number of shipments for the Track 4A Project. They have comprised of various cargo ranging from small structures to over-dimensional transformers, generator stators and gas turbines. We're excited to cross many more milestones in the project logistics scene in Malaysia."