C.H. Robinson Transports 4 Modules to Port by SPMTs
10th March 2020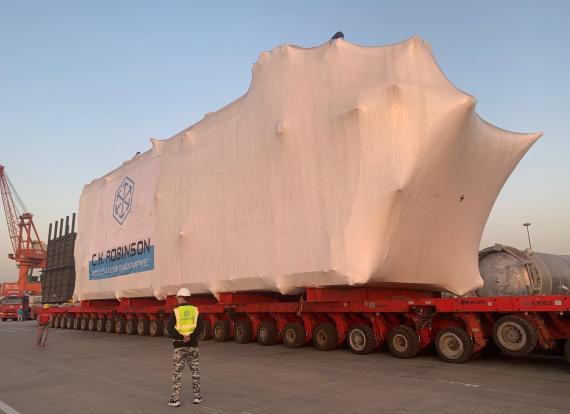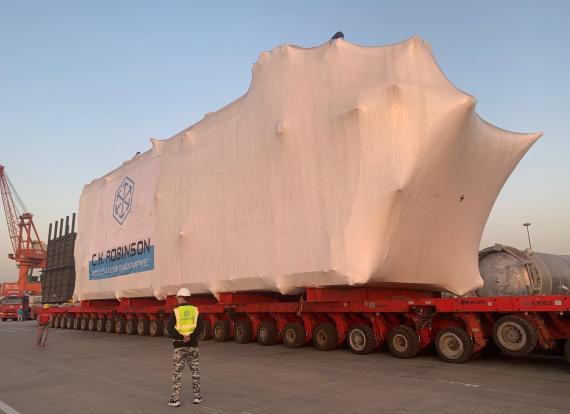 The project logistics specialists at C.H. Robinson recently moved four large module units from the manufacturer to port for a long-term client as pictured in the gallery below.
The modules varied in size from the largest at 43.80 x 9.25 x 9.00m and 352.82mtn to the smallest at 32.00 x 7.65 x 9.10m and 128.15mtn. In total, the cargo weighed in at 965.8mtn and had a volume of 11,606cbm.
Due to the size and weight of the modules, SPMTs were required to get the units to the terminal. Although the distance between the manufacturer and the port was only a kilometre, moving such massive equipment takes extra time and planning. The SPMTs needed to be assembled and the units could only be moved one piece at a time. To top it off, SPMTs only travel at half a kilometre per hour so extra patience is required.
C.H. Robinson knew time management and good communication were vital in securing a successful outcome. Export customs clearance had to be secured before the cargo could be released by customs and timing was critical prior to the vessel's arrival. The modules also had to be moved to the front of the terminal in order to be loaded onto the ocean vessel by the ship's gear.
Communication with the trucking company had to take place at least three weeks in advance to order the required SPMTs. There was also ongoing communication with the ship owner, agents and the terminal to ensure the specific position of each module alongside the ship for direct loading to the vessel. Failure to regularly communicate in detail and regularly could have resulted in delays leading to vessel detentions.
C.H. Robinson's knowledgeable and experienced logistics experts constructed a detailed, professional transport plan to avoid any surprises and to ensure everything went smoothly. The expertise and attention to detail paid off when the modules were safely loaded onto the ocean vessel ready to set sail.